MINI Cooper Works Part 1
Written on 05 August 2018 by R Hill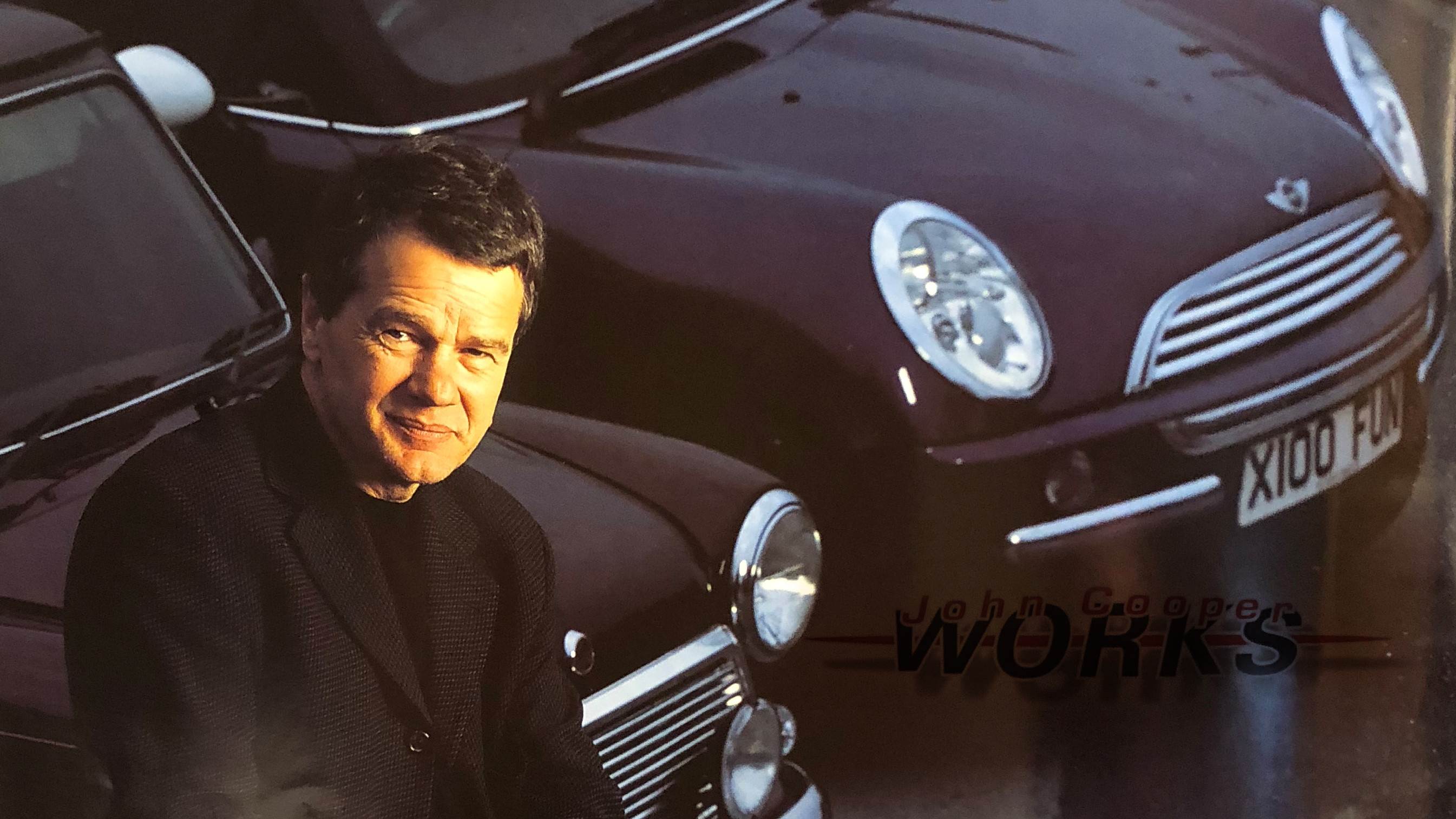 Introduction
The name John Cooper will always be synonymous with performance Minis and MINIs. The story of how John Cooper took the original Mini in 1961, bored out the standard car's engine and fitted it with twin carburettors and then went on to win the famed Monte Carlo rally in 1964 '65 and '67 is well documented. So it seems obvious that BMW would want to maintain this link to such a strong icon.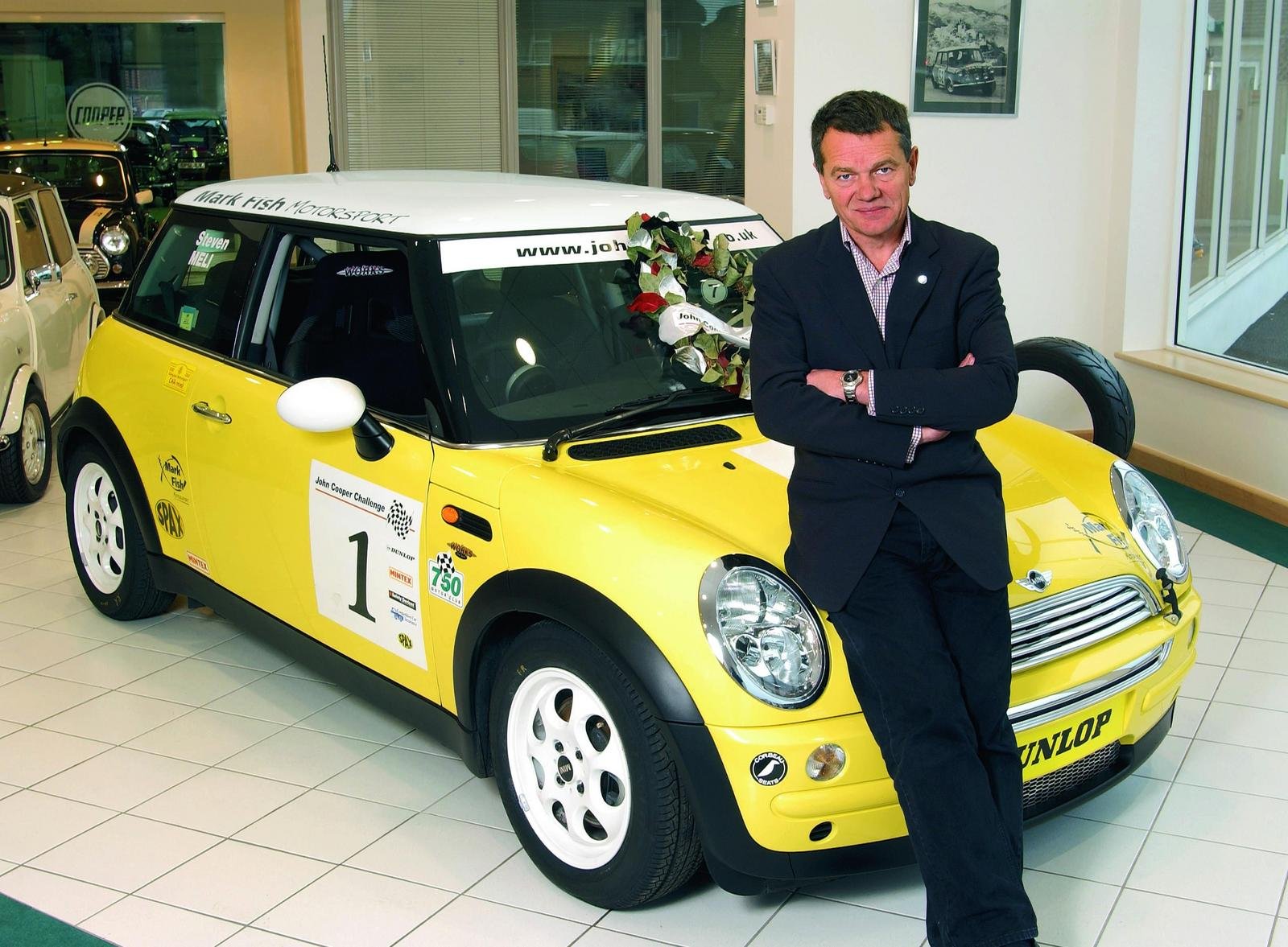 Michael Cooper (John Cooper's son) wrote in a John Cooper Garages brochure in 2002:
Involved from the start

At John Cooper Garages we have been personally involved in the evolution of the new MINI Cooper since its inception. We were given unprecedented access to the initial designs and my late father, John Cooper, and I tested the early prototypes. We were frequently consulted on issues such as how the car might look and were asked to provide feedback on drive-ability, driver feel, throttle response, handling and turn-in.

We are proud to have been part of the team from the very beginning, helping to decide how the new MINI Cooper would be launched to eager enthusiasts worldwide.
We decided to form a team

During the mid-to-late 1990s we were invited to contribute our expertise to the new MINI project, which would ultimately replace the classic car and carry the Cooper brand into the new Millennium. We decided to form a team that would commence work on production of an engine conversion and chassis enhancements for the new MINI Cooper.
There seems to be a lot more information online about the JCW Cooper conversions for the R53 onwards which were released in March 2003, a year after the R53 went on sale. Information surrounding the MINI Cooper Works R50 however does not seem so readily available. This post trys to bring all the information I've managed to gather by trawling websites, magazines, sales brochures, price lists and speaking with ex employees of John Cooper Garages together.
A 132Ps result, with the torque to match

We assembled a dedicated engineering team, specialising in engine and drive train development and chassis dynamics. After 18 months in development, our team had produced an outstanding 132Ps package with the torque to match - the result is our after-market engine performance conversion for the new MINI Cooper.
What's special about the original R50 MINI Cooper Works car is that it is the last tuned naturally aspirated Mini/MINI to have been developed by Cooper Garages, making it a MINI Cooper in more than just name. Whist the R53 MINI Cooper S and its JCW works upgrades might ultimately deliver more performance, there is something special about the way the the R50 MINI Cooper Works car bridges the gap between the tuned classic Cooper Minis and the modern MINIs.
Types of MINI Cooper Works Conversions
Initially in 2001 there were 2 ways to get your hands on a MINI Cooper Works. Launched in the November of 2001:
Firstly you could purchase the car from John Cooper Garages ready to go. The engine conversion was made up of a high compression ration cylinder head, free flow air filter and all new cat back stainless steel rear exhaust system. All of this came with a JCW rear chrome badge, JCW branded door sills, carpet mats, exhaust finisher and all important engine bay plate with unique CAR No. JCW/C number.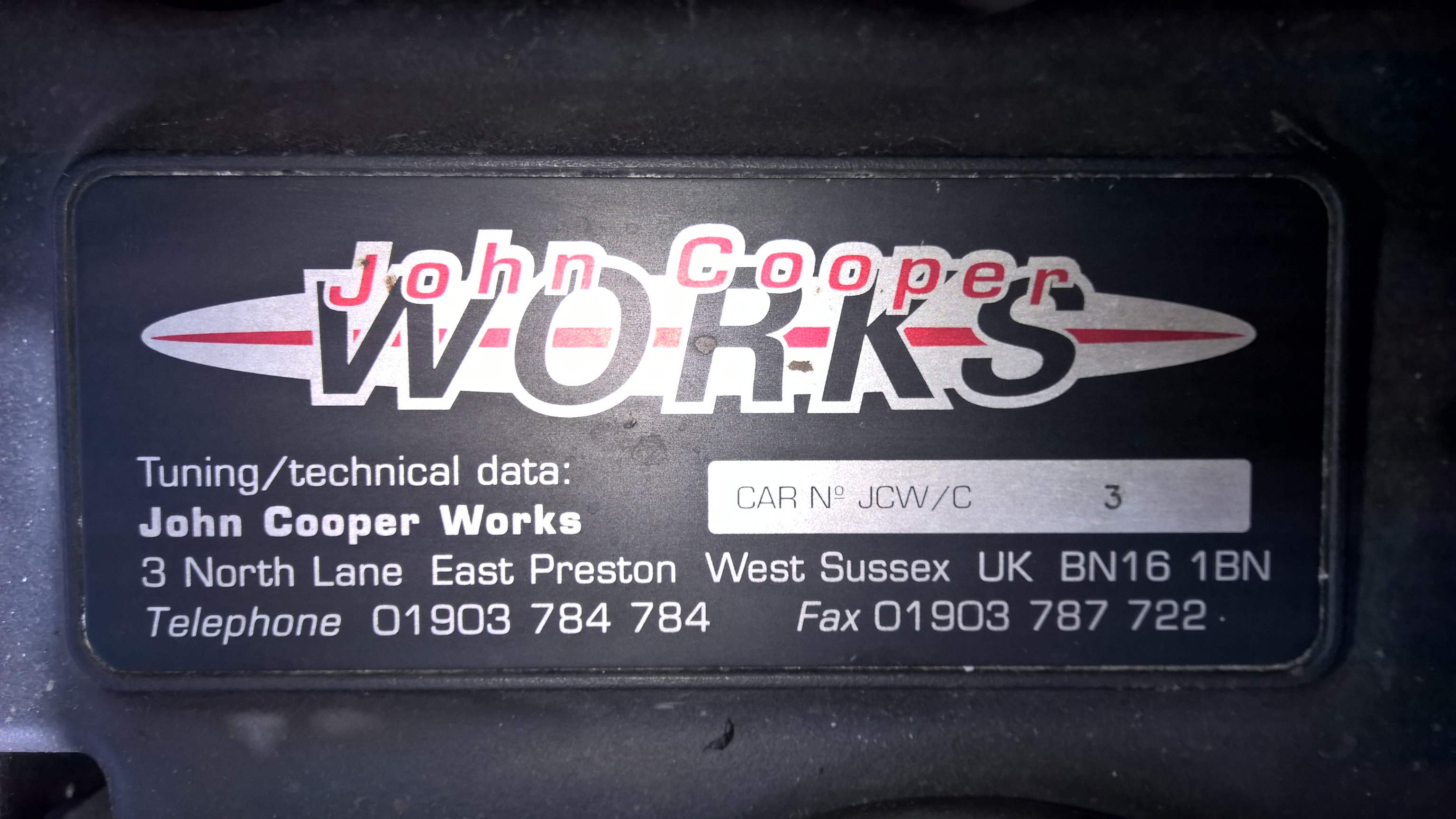 Secondly you could purchase your MINI Cooper from a dealership and take it along to John Cooper Garages for them to fit the conversion for you.
Simply come and see us...

Just bring your car down to our new engineering workshops and we will carry out the John Cooper Works Conversion for you. This includes the coveted side and rear chrome and enamel badging and that all important engine bay plate with unique car conversion number.
From the John Cooper Garages sales brochure it is important to pickup on the distinction in the wording used for these 2 types of MINI Cooper Works. If a car was converted by John Cooper Garages pre sale it was given a CAR No. JCW/C plate on the engine, but if a was taken to them post sale it was given a Conversion No. JCW/K plate on the engine.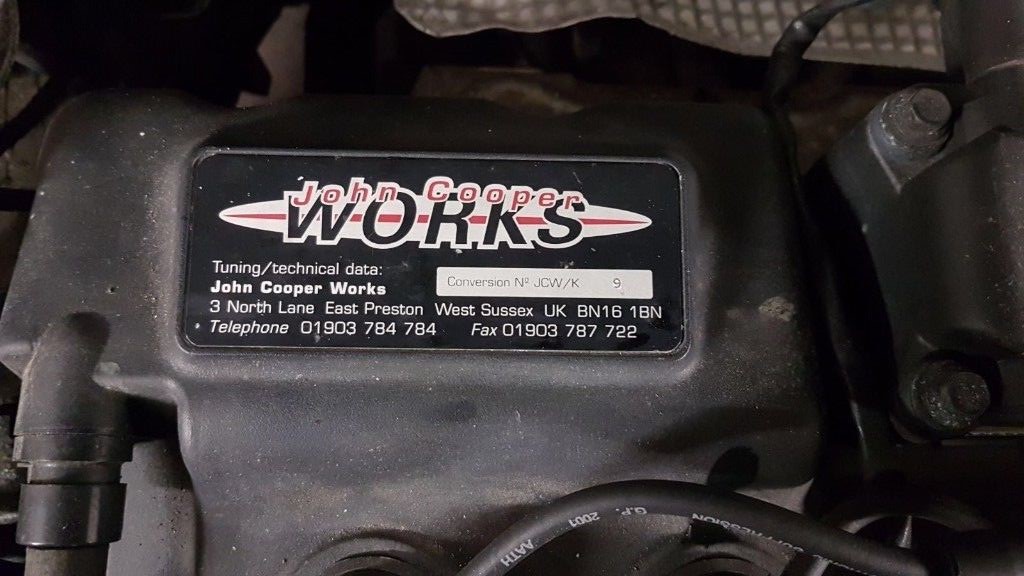 Sometime soon after this car conversion was also available from "selected premium partners worldwide". Although I have not been able to find out exactly when or where you could get this done. Speaking with Chris Dawson (below) I believe this was selected BMW dealerships.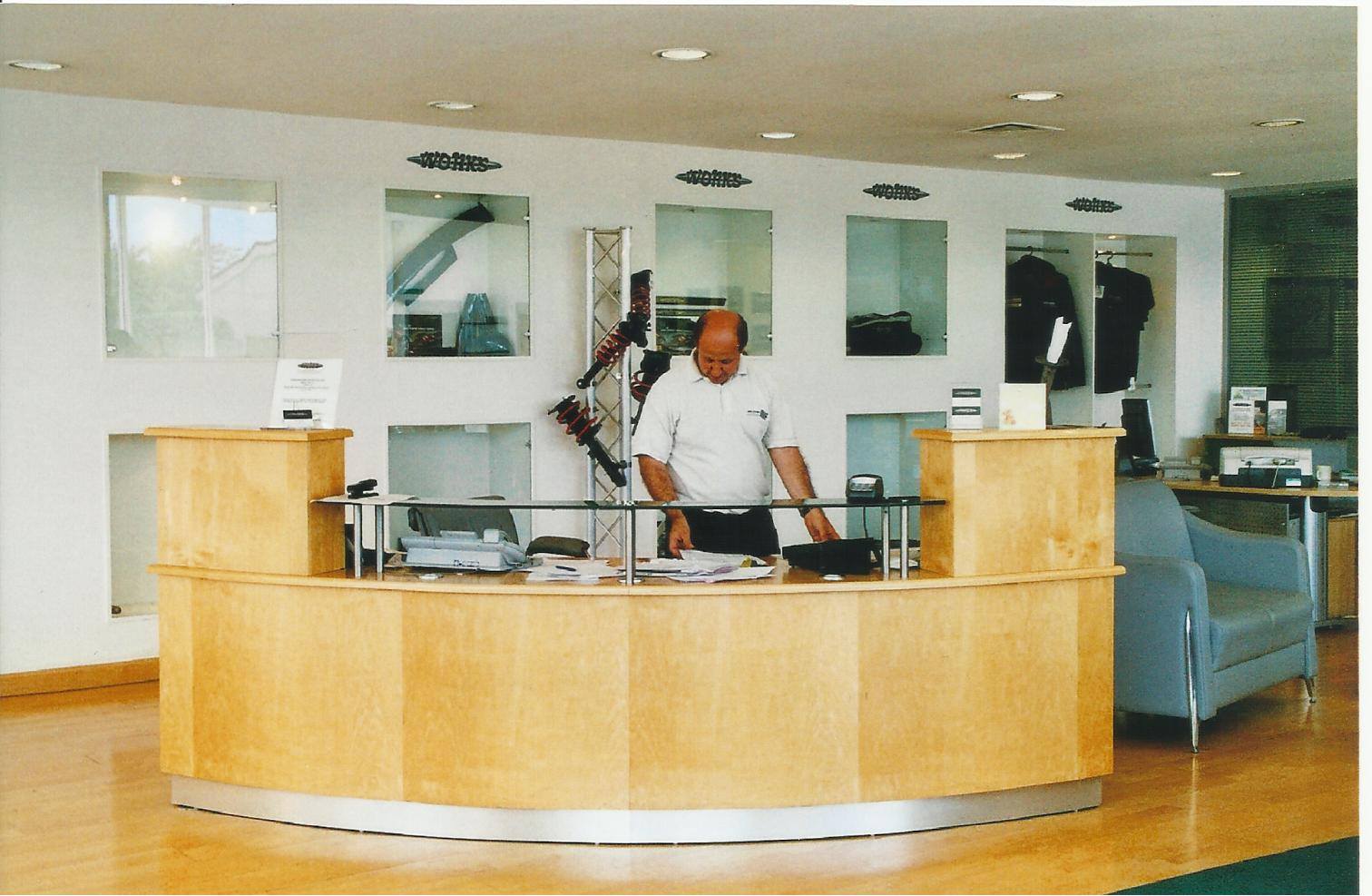 Chris Dawson who was the service advisor for John Cooper Garages between 1982-2006 (when they shutdown) told me:
I booked everybody in for their conversions, asked them what their requirements were and did all the invoices there. It was a wonderful job. Yes, I remember the conversions starting and being developed and getting the permission from BMW to carry out the conversions. It was a roller coaster time but fantastic at the time, it was just a job you took for granted.

I remember Mike Cooper taking one round to show his Dad in 2000 Mr Cooper died December 2000. All the kits came out of East Preston Garage to start with then later we brought a warehouse for the kits called Works House.
Unfortunately all computerised records kept at John Cooper Garages are no longer accessible. Having been lost forever or taken in house by BMW when they took over in 2006.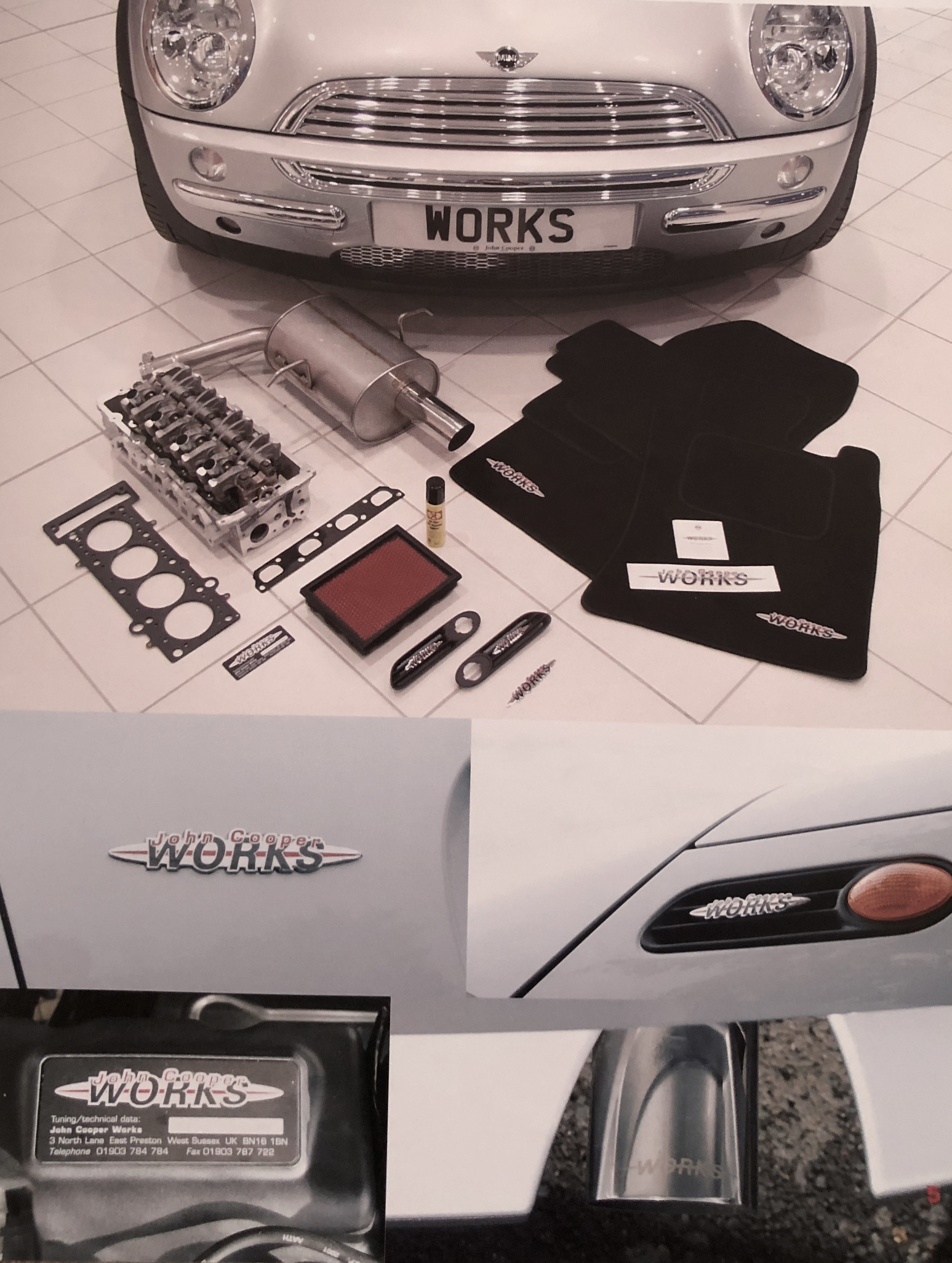 Following the conversions at John Cooper Garages in 2003 BMW launched the MINI Tuning Kit at the Geneva Motor Show alongside the MINI Cooper S JCW conversion. Below is a photo of a R53 at the Geneva Motor Show. What is relevant to this post though is the stand in the background, advertising the "JOHN COOPER WORKS TUNING KITS" (not Cooper S Works).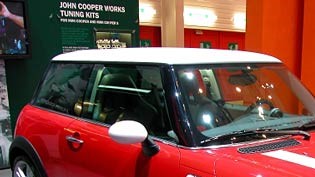 From an MINI UK press release:
The John Cooper Works Tuning Kits

John Cooper Works, the original British company behind the legendary Mini Cooper has developed two new aftermarket and retrofit tuning kits, for the new MINI. The MINI Cooper Works and MINI Cooper S Works will make their world premiere at the Geneva Motor Show on 4 March 2003. The kits will be available from both the John Cooper Works organisation and all official MINI Dealers from April 2003. Uniquely, having obtained full approval and endorsement from the BMW Group, vehicle warranty and MINI tlc* remain unaffected providing the kit is fitted by an official MINI dealer or by John Cooper Works. Prices of the Works kits will be announced closer to launch.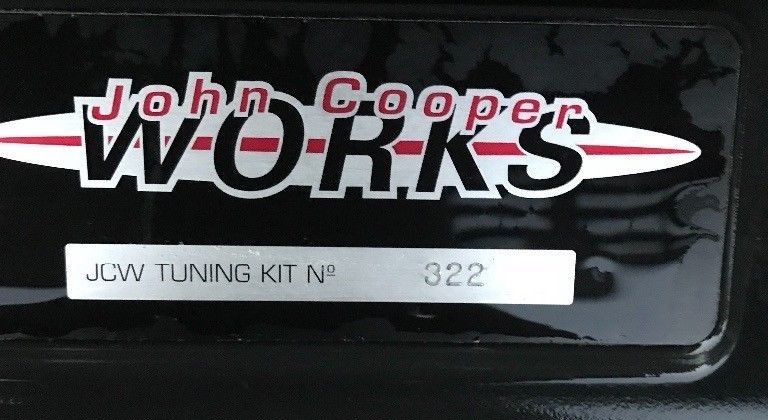 From what I can tell this seems to have been predominantly a marketing re-brand / relaunch to coincide with the Cooper S JCW conversion and to peak interest. However there does appear to be some subtle differences beyond this as the power increase figures advertised actually reduce for the Tuning Kit from 132Ps to 126Ps and photos of cars with the tuning kit benefit from an additional Injection Tube Cover. Importantly though, the plate on the engine was now stamped with a JCW TUNING KIT No..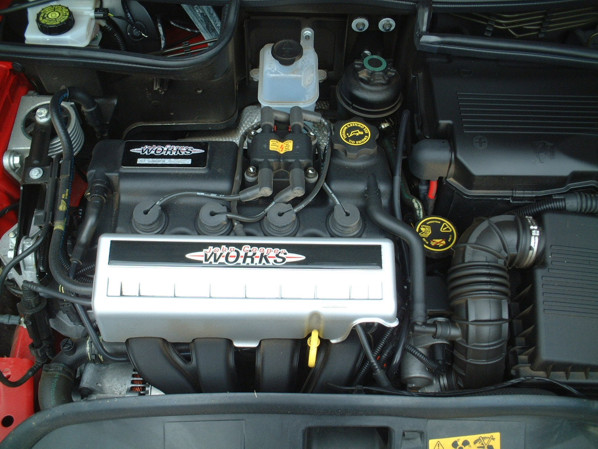 Note also how the engine plate is almost identical to that on the R53 MINI Cooper S. The difference being the number starting with an S on the Cooper S plate.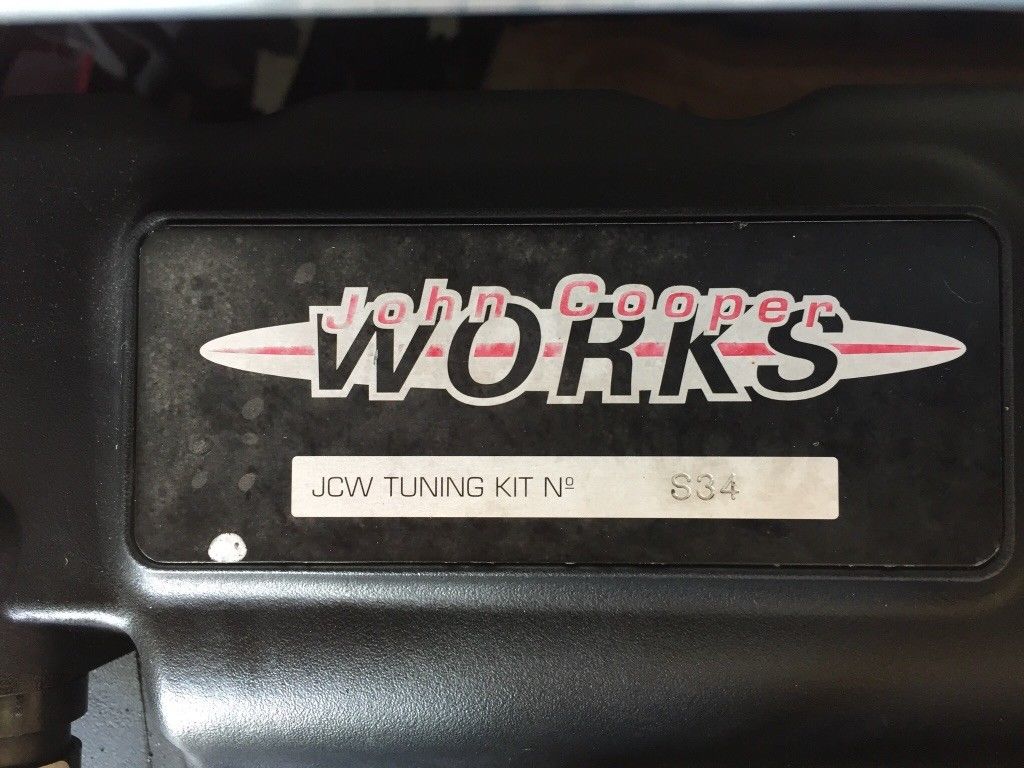 Performance
There is a minor bit of confusion surrounding the performance gains offered by the MINI Cooper Works Conversion. Figures quoted in the John Cooper Garages brochure state a power increase at 132Ps (130BHP). Where as their winter price list states 132BHP.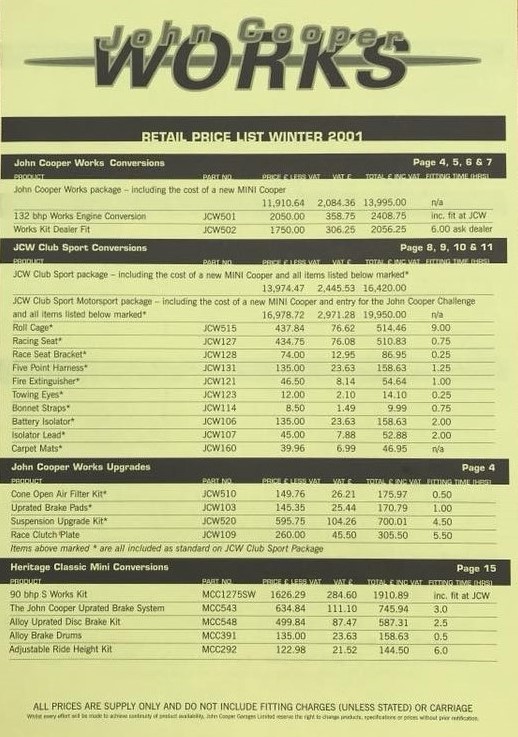 The figure of 132BHP is quoted in Magazines of the time such as AUTOCAR (28 November 2001), where as EVO (January 2002) references 130BHP. When the car was reviewed in one of the last Top Gear programs before it was taken off air, Tiff Needell also made reference to 132BHP and not 132Ps. So whether the brochure got it wrong by stating Ps and not BHP or others got it wrong afterwards is not clear.
Another point of slight confusion is how the brochure says
You can go even further

You can also fit an open foam air-filter, as used on our JCW Club Sport 'Road/Race' conversion, to give your John Cooper Works extra power and a sporting intake roar as you accelerate away.
It does not go on to quantify this "extra power".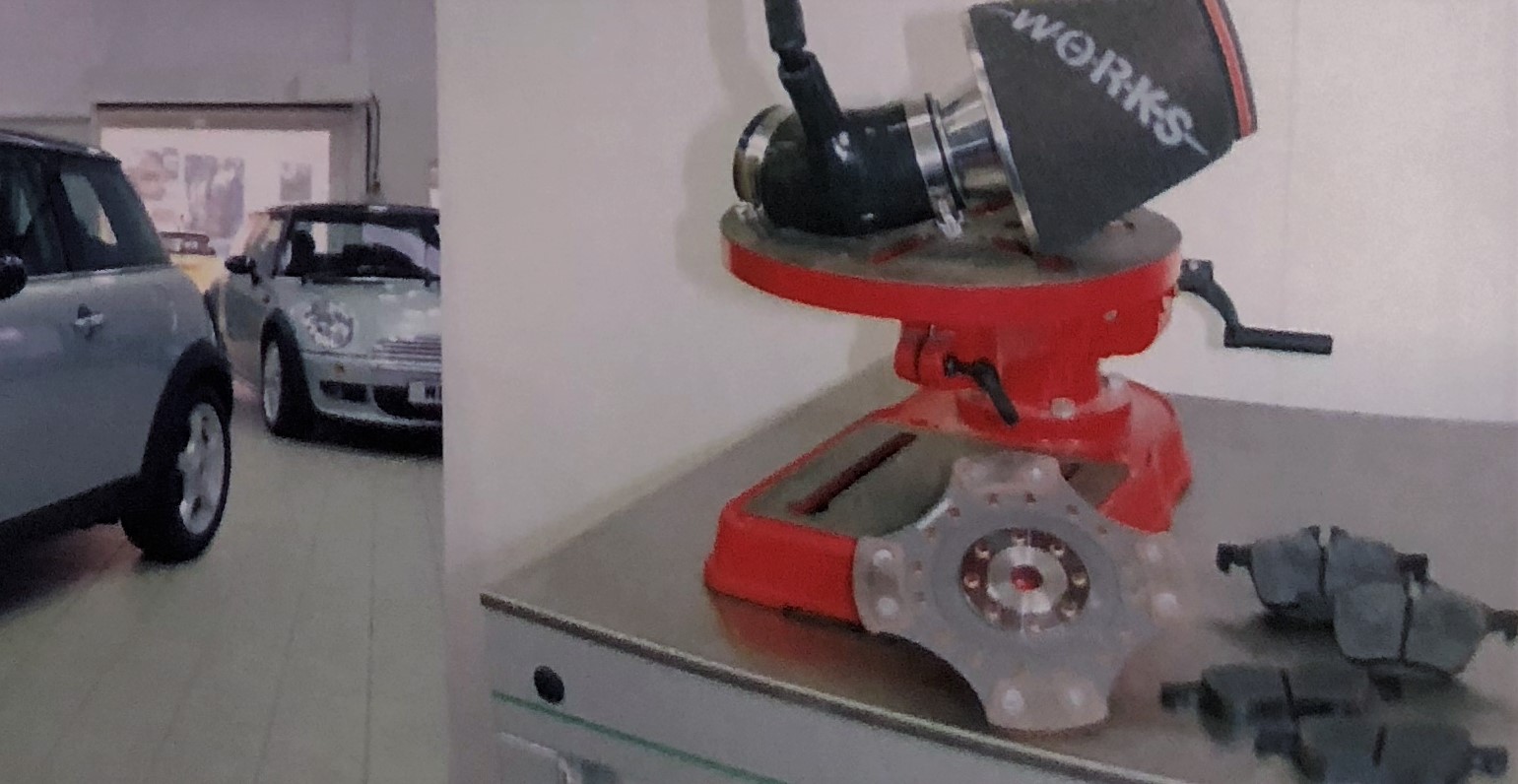 As already mentioned above when MINI took the Works Conversoin and renamed it the Tuning Kit their brochure quoted the power output as 126Ps, although online sources quote this at 126BHP. Somehow a reduction in 6Ps.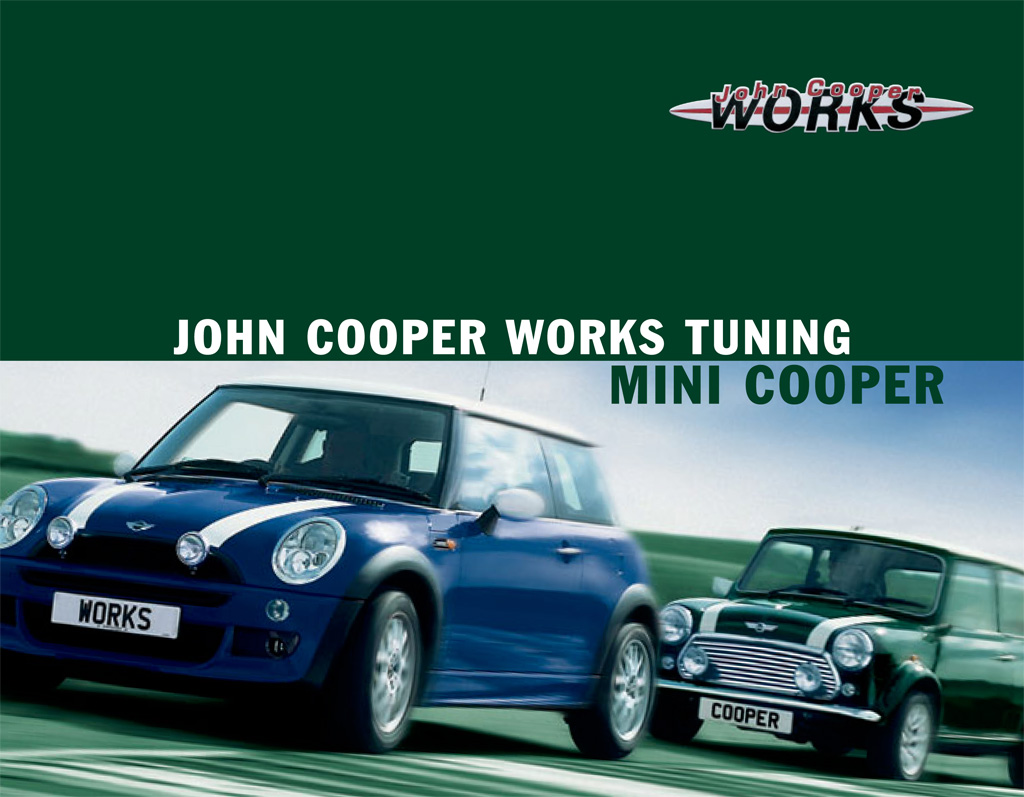 Unfortunately a graph for the John Cooper Works MINI couldn't be found but here is the John Cooper Works Tuning Kit Performance Figures showing the difference between it and a standard MINI Cooper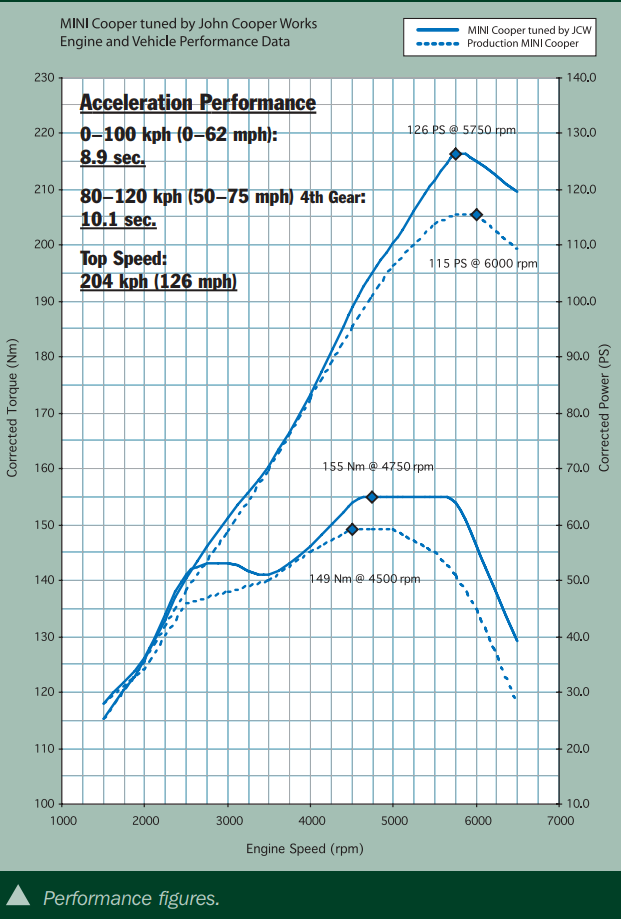 Warranted Conversion
Regardless of how you got your MINI Cooper Works conversion, all of this came with warranty included from BMW. The MINI Cooper conversions were carried out post factory build, but were the only way to upgrade your brand new MINI back in the early 2000's and maintain your warranty.
Additional Options
Both the John Cooper Garages brochure and price list give details about other upgrades that were offered by John Cooper Garages to make your Works Cooper even more special.
You don't have to stop there!

Our engineering development doesn't stop at the engine. With typical Cooper flair and style, we have developed a range of high quality upgrades to the car to enhance its handling and performance even further. Suspension lowering kits, upgraded shock absorbers, alternative brake pad materials and a clutch upgrade will enable us to custom build your Works car to your specification.
These options aren't present in the BMW MINI JOHN COOPER WORKS TUNING brochure of 2003, being replaced with new JCW sports seats and alloy wheels.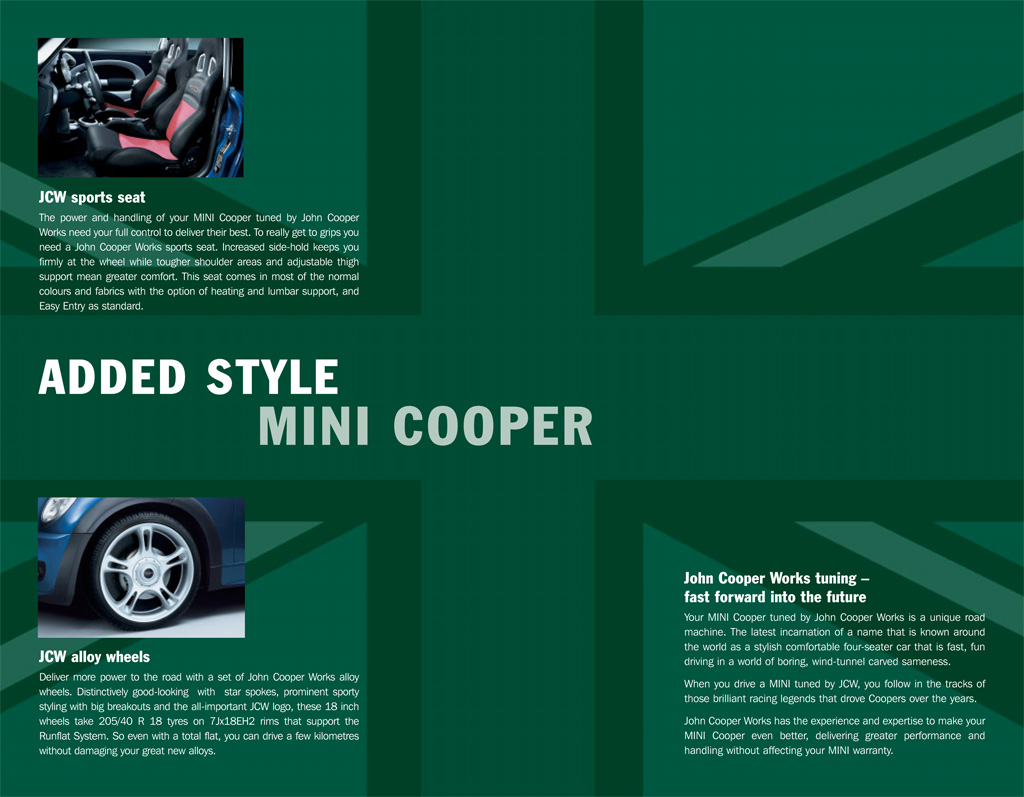 Discontinued
Exactly when the MINI Cooper Tuning Kit was discontinued I'm not sure, but certainly by the Spring 2005 Tuning Kit brochure it had been dropped in favor of the MINI sound kit. The sound kit consisting of the same air filter and exhaust as the tuning kit but without the head conversion.